Information About Our Materials
We carry a wonderful line of Wholesale Fashion Jewelry, Accessories and Swarovski Austrian Crystal Jewelry. We have all "Price Points, Styles, & Designers" available. Our higher end fashion jewelry is made with Rhodium or 18-22kt Heavy Gold Electroplate (HGE) over Brass or Sterling Silver and most items have 100 mils of gold or more. Most of our items are nickel free with prong or channel set 1st Quality Swarovski Austrian Crystal Stones measuring 1/4 karat or more. Smaller stones may also be CZ's or 1st Quality Swarovski Austrian Crystal. If a product is sterling silver, gold or has genuine stones it will be noted in the item description. Some of the lower end close-out items may be of a slightly lesser quality, however, they are still excellent products. The Aurora Borealis (AB) stones are created by adding a coating to the surface of the stone, so they require extra care. If you have any questions, please contact us prior to purchasing your wholesale jewelry, so we can answer them for you. For more information on our wholesale fashion jewelry products, go to each item for specific descriptions.
What is 925 sterling silver jewelry?
Sterling silver is an alloy of silver containing 92.5% pure silver and 7.5% other metals, usually copper. The minimum fineness is 925. This is what fine sterling silver jewelry is made of. The current style is to plate sterling silver with rhodium, to make it look like white gold jewelry. Rhodium is made from white gold and sterling silver. The plating of most items is Heavy Gold Electroplate, HGE the finest plating available. Fine silver (99.9% pure) is generally too soft for producing large functional objects. Silver is usually alloyed with copper to give it strength while preserving the ductility of the silver along with high precious metal content, perfect for fine jewelry. All .925 Sterling Silver jewelry should be stamped ".925"
Sterling silver is a white and highly reflective precious metal. Sterling refers to silver that is 92.5 percent pure. Fixed by law, this proportion is usually copper that is intended to make the piece harder. This standard is used to assure consistent quality among sterling products. Silver that is not described as "sterling" or ".925" has less pure silver content and will often be darker in color and less shiny. A protective coating may be added to prevent tarnish. Sterling is 92.5% pure instead of 100% pure in order to achieve the requisite hardness and stability to resist wear and tear, and hold its shape.
Sterling silver is becoming one of the most popular metals in the jewelry industry. Most people that have allergic reactions to some metals are able to wear sterling silver. Sterling silver is easy to clean and care for. It will tarnish with time, but a little rubbing with a polishing cloth, and it will look good as new.
What is Swarovski?
Swarovski is the luxury brand name for the range of precision-cut lead crystal glass products produced by companies owned by Swarovski AG of Feldmeilen, near Zürich, Switzerland.
The Swarovski Group also includes Tyrolit (makers of abrasive and cutting tools); Swareflex (reflective and luminous road markings); Signity (synthetic gemstones); and Swarovski Optik (optical instruments).
The company runs a crystal-themed indoor theme park, Swarovski Kristallwelten (Crystal Worlds) at its original Wattens site (near Innsbruck, Tyrol, Austria).
Swarovski was also a sponsor for The Phantom of the Opera (2004 film), in which the "standing model" of the chandelier was composed of Swarovski crystals. A Swarovski shop window is also visible later in the film. However, the current swan logo, instead of the edelweiss flower which would have been the case in the era the film was set, appears.
Swarovski crystal was founded in 1895 and is still crafted in Wattens, Austria using the unique formula perfected by Daniel Swarovski and his three sons. The quality and purity of Swarovski stands unmatched. The processing and cutting techniques have long been an unrivaled company secret that many strive to copy but have yet to achieve the spectral brilliance of genuine Swarovski crystal.
Swarovski jewelry is made with a very special plating process that lasts a lifetime and will not fade as cheaper imitations do. Swarovski retires their gorgeous jewelry designs as well as their collectable figures which makes them even more exclusive. When you buy Swarovski, rest assured you are buying the finest quality in the world!
History:
Swarovski crystal was born when Bohemian-born Daniel Swarovski invented an automatic cutting machine in 1892. In 1895 the Swarovski company was founded when he established a crystal cutting factory in Wattens. Here he could take advantage of local hydroelectricity for the energy-intensive grinding processes he had patented. By the mid 20th century, Swarovski was working with jewerly-making and crystal promotion using special treatments to produce colorful effect within the crystal stones for jewerly making. In 1976 Swarovski expanded the business from cutting and manufacturing for jewelry production to included silver crystal for figurines and collectibles. In 1995 the company celebrated its 100th anniversary with the production of a prominent Swarovski century swan in silver crystal. Swarovski is an Austrian success story par excellence. They are known to produce the world's finest crystal stones.


Swarovski crystal contains approximately 32% lead to maximize refraction. The Swarovski Crystal range includes crystal sculptures and miniatures, jewelry and couture, home decor and chandeliers. They also sell beads and rhinestones, encouraging other manufacturers, artists and consumers to create their own designs.


In order to create a crystal that allows light to refract in a rainbow spectrum, Swarovski coats some of its crystals with special metallic chemical coatings. Aurora Borealis, or "AB", is one of the most popular coatings, and gives the surface a rainbow oil slick appearance. Other coatings include Crystal Transmission, Volcano, Aurum, and Dorado. Coatings may be applied to only part of an object; others are coated twice, and thus are designated AB 2X, Dorado 2X etc.


A recent development was the 2004 release of Xilion, a new copyrighted cut designed to optimise the brilliance of Roses (crystal components with flat backs) and Chatons (diamond cut).
All Straas sculptures are marked with a logo. The original Swarovski logo was an edelweiss flower, but was replaced with the current swan logo in 1988.

Active-Crystals:
In 2007 Swarovski formed a partnership with electronics giant Philips to produce the "Active-Crystals" consumer electronics range.
The Active-Crystals Range includes four USB Memory keys and four In-ear headphones, all with some form of Swarovski crystal on them as decoration.

The Swarovski group, produces precision cut genuine and created gemstones for the jewellery, watch, fashion and accessories industries. At a time when the entire jewellery industry is opening up to new ideas and influences, Signity's precision cut gemstones, all bearing the Swarovski quality hallmarks of superb cut, colour, consistency and brilliance, are seen in a totally new light, as a vital, versatile and precious ingredient in fashion and style!
Below is a copy of Swarovski's Austrian Crystal Color Chart: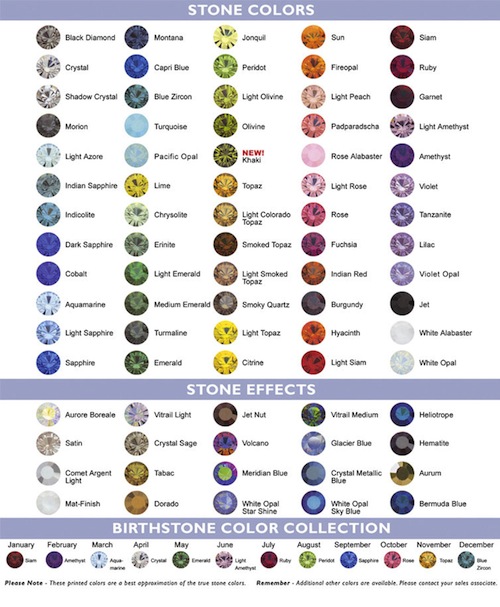 What you must know to start a wholesale jewelry business:
First determine who you are going to sell to, what the ages and sex of your customers will be, where your customers reside, the holidays or ethnic groups that will create sales for you, what the economical level of your customer is, are you going to sell to retailers, stores or individuals. Once you know these answers, decide how much time and money you wish to invest in your new jewelry business. We can assist you with selecting the appropriate jewelry for resale to start your business. We have been in business nearly 30 years and we can answer any questions you may have.